Open September 28-November 23, 2019!
Come spend the day at Fiddlesticks Farms! You can explore our 15-acre cornfield maze, wander through our 10 acres of pumpkin patch, visit friendly farm animals, gather 'round a campfire, and romp through 25+ attractions that are fun for the whole family!  Don't forget our  Special Events throughout our season!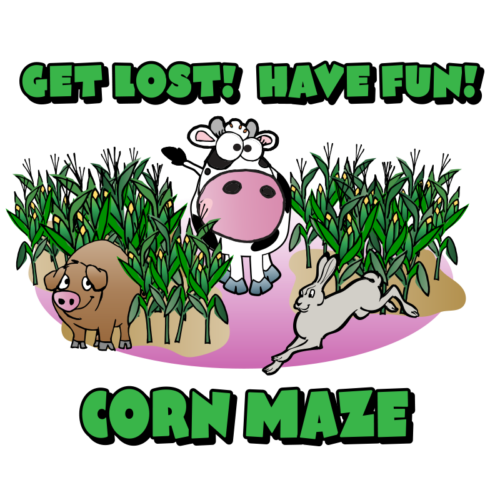 It's aMAZEing Fun!
Yep — 15 acres of aMAZEing fun! Each year we change up the design and paths of the maze but we keep the 3 phases the same!  There is a little bit of something for everyone.  Phase 1 can take anywhere from 45 minutes to an hour.  Phase 2 is closer to a 30 minute walk.  Passports are available and can help guide you through the maze…and if you find yourself extra lost, we do have Corn Cops available for assistance.  They can not guide you and do not accept tips!
Phase 3 is our Fairy Tale trail…story boards are placed along the trail so even the littlest of corn maze fans get an opportunity to experience the maze.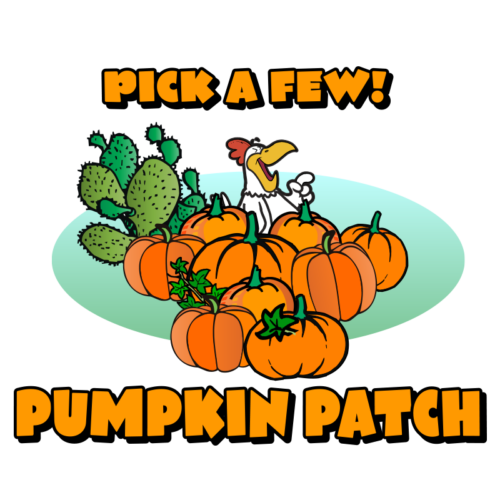 We've got Pumpkins
You are sure to find your PERFECT pumpkin in our 10 acre patch…and if you don't please feel free to look in our pumpkin pile!  We raise 15 different varieties of pumpkins each fall.  A fall favorite is the Jack o'Lantern which is perfect for carving.  We have Cinderellas, Jaharradales, and Fairy Tales of all sizes and they are great for both decorating your front porch/yard but also great for eating!  YUM!  A kid favorite is always our minis and we have 4 varieties to choose from.  Wether you love white, orange, green or yellow pumpkins…or all of the above, we have got you covered at the pumpkin patch or pile!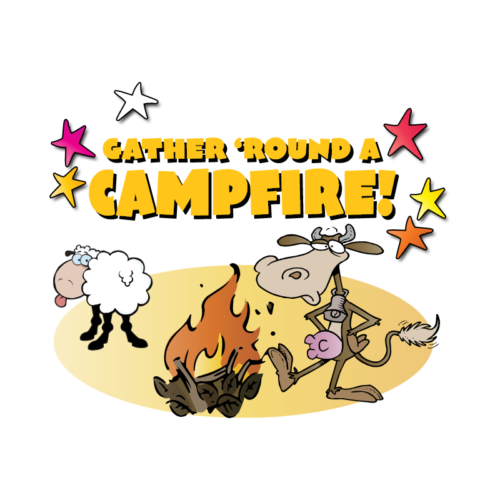 Campfires!
What fun to sit around the campfire with family and friends on a crispy fall day at the farm! Roast weenies and make S'Mores — talk, sing or tell tall tales! We provide a picnic table, and we'll start the fire for you.  A campsite is the PERFECT spot to watch our Farmtastick Fireworks on October Saturday evenings!  Reservations are not required, but our sites fill up quickly! Get details and reserve online.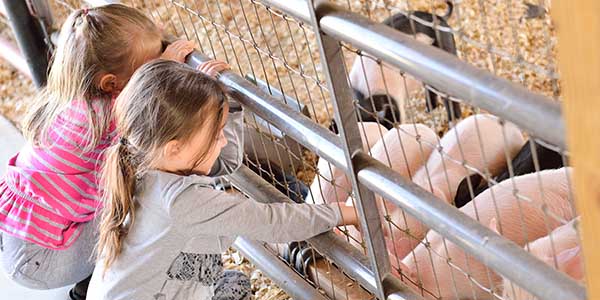 Things to Do!
Get your visit mooo-ving! Make your way over to the Learning Barn to meet the farm animal mommas and babies — we have cows and calves, goats, sheep & lambs, chickens, pigs and ducks!
Catch a live milking demonstration in the Fiddlesticks Farms Milking Parlor! Milking Demonstrations are held every 2 hours starting at noon on Saturdays and 2pm on Sundays.
Giggle at the Chick Hatchery.
Live Entertainment
Pig Races will follow each milking demonstration!
Candy Blaster 1:30 and 5:30pm Saturdays and 3:30pm Sundays!  Listen for the siren and scramble for goodies!
See Farmtastic Fireworks shows on all October Saturday evenings!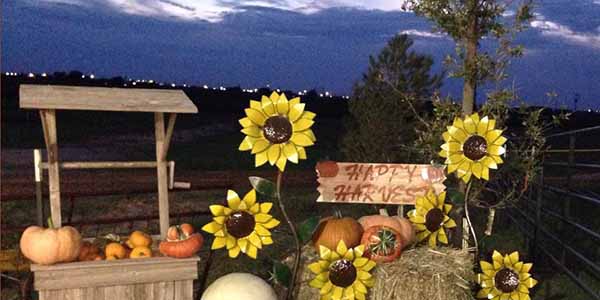 The Stars at Night … are Big and Bright!
Our courtyard is big & bright with lights, but the maze, the cow train trail, and the pumpkin patch are not. Sunset is the last call for the cow train and hay rides before they turn in for the night.
The corn cannon and apple blaster targets are also out of the range of the courtyard lights, however, those activities are still available after dark.