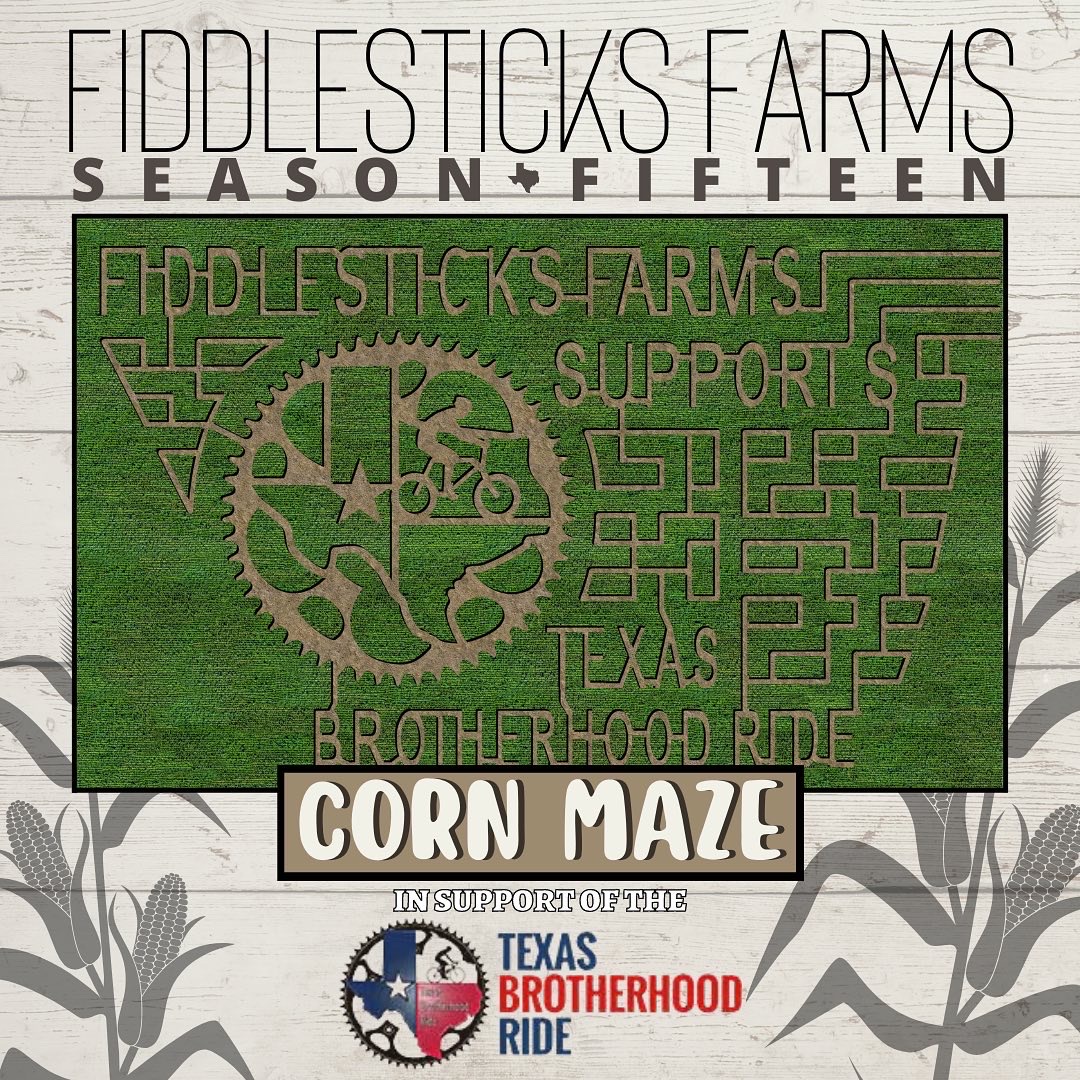 2022 maze
Fiddlesticks Farms proudly supports The Texas Brotherhood Ride's mission is to honor First Responders who have made the ultimate sacrifice serving their community. By riding bicycles, their goal is to bring awareness to these tragedies and letting their families, friends and co-workers know that Texas Never Forgets.
If you feel so inclined, here is the link to donate to this amazing cause:
https://ssl.charityweb.net/texasbrotherhoodride/
This year they will be honoring 31 fallen first responders who paid the ultimate sacrifice in 2021. They will begin their journey in Texarkana, Texas and ride to Houston, Texas, traveling through Dallas riding 6 days and over 600 miles, averaging 80-100 miles each day. The riders will be honoring:
-Gilbert Clayton McClure Texarkana PD
-Charles Hughes Texas Corrections
-Wesley Vanderver Sugar Hill VFD
-Eddie B. Hutchison Walker Co. DA
-Ross D. Estabrooks Tri-Lakes VFD –
-Tanner Reed Houston FD
-Jack Lee Guthrie Dallas College PD
-John Edward Moon Waller Co. SO
-Scott Harn Dallas PD
-Kareem Atkins Harris Co. PCT 4
-Richard Houston Mesquite PD
-William Jeffrey Houston PD
-Andrew Robert MacDonald Grand Prairie PD
-Richard John Frankie Fort Bend ISD PD
-Rodney L. Mooneyham Denton PD
-Tomas Infante Harris Co. PCT 6
-Arnulfo Pargas Dallas PD
-Kuo-sheng "Johnny" Wang South Houston PD
-Earnest Oldham Plano PD Shaun -Christopher Waters Harris Co. SO
-David Ruiz Dallas PD
-Alexander Gwosdz Harris Co. SO
-Clinton Joseph Ventrca Corinth PD
-Robert Perez Harris Co. SO
-Mitchell Aaron Penton Dallas PD
-Pedro "Pete" Mejia Pasadena PD
-Chad Michael Walker Texas DPS
-Hugo Guevara Cy Fair FD
-Richard Anthony Sepolio Harris Co. DA
"We Never Forget – Every ride we do, we do to honor all our Brothers and Sisters who we have lost."
Rest In Peace heroes and please pray for their family, friends and the riders.