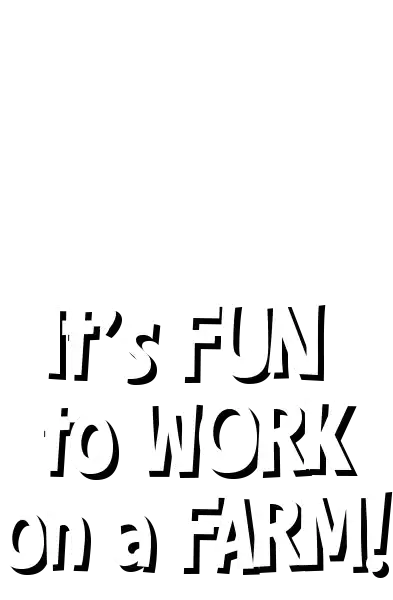 Now accepting applications for the 2023 Season!
We offer exciting seasonal employment in a fun family environment. We are looking for students, stay-at-home moms and dads, teachers, retirees; anyone that can contribute 25 weekday hours for school field trips or 12-18 weekend hours during our nine-week fall season.
Open 9am-2pm Monday-Friday from September 25th- November 10th school field trips.
Open 3 different shifts on weekends from September 23rd- November 11th for the public.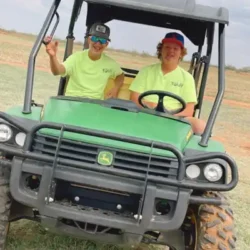 Parking Attendant
When working the parking lot, it's your job to assure that visitors are creating effective parking lines and showing them where open spots are on busy days. It's the beginning and the ending of their experience at the farm, so we want it to go smoothly.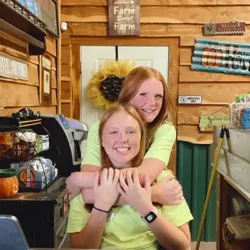 Cashiers
You are the face of each one of our attractions! Whether you are selling tickets or assigned to another cashier stand, it is your job to provide the customer with the best service possible … with a smile! You must also be able to handle interactions professionally.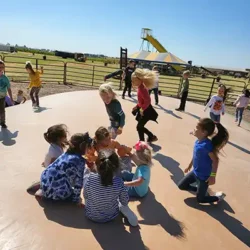 Field Trip Guide
Keep them chickens in a row! Weekdays 9am-2pm, the farm is open for educational field trips. It is your job to keep our school groups together and help them navigate the farm in the safest, most educational way … but while having LOADS OF FUN!!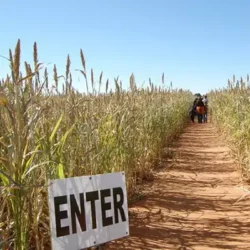 Corn Cops
You are the eyes of our corn maze! It is your job to ensure that patrons are staying on the marked paths and to aid them if they are in need while making their way through the maze. Each corn cop is provided with a walkie-talkie and a map, as they are stationed in the maze.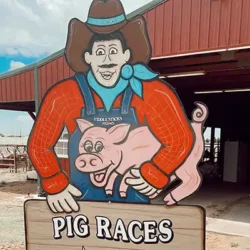 Courtyard/Activity Attendant
Our courtyard is the essence of Fiddlesticks Farms. It's home to a big yellow slide, jumping pillows and more. Your job will be to assure that people are enjoying them safely and following rules. The Activity Attendant will also aid groups with special events — including transportation of supplies from their car to the tent area and clean up.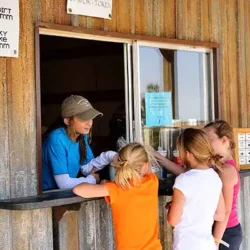 Food Prep & Serving
After playing all day, our visitors will be hungry for some of our signature foods! It's your job to assemble ready-to-eat food in a sanitary and effective manner. Our kitchens can get super busy — if you can't handle the heat … stay out of the kitchen!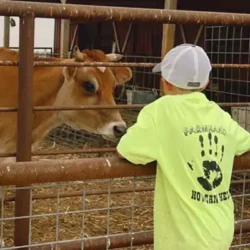 Managing Livestock (Learning Barn)
It's your job to provide brief information about our animals and ensure the health and safety of both visitors and animals! You will also aid in milking demonstrations and pig races — two of the most popular attractions at the farm!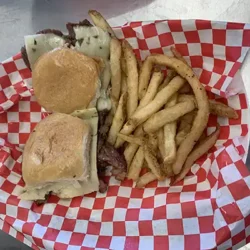 Fry Cook (Age 16+)
Very similar to our food and prep staff, it is the fry cook's job to cook foods that the rest of the staff will assemble. You may be dealing with fryers and food requiring a temperature check for safety.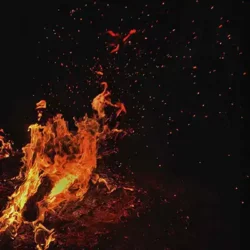 Campfire Starters (Age 16+)
Our campfire stations have grown to be a very popular attraction at the farm. Guests can reserve a private one or enjoy our community pits for everyone! It is your job to keep them lit and set with wood. If they go out, guests will get cold … and who wants that?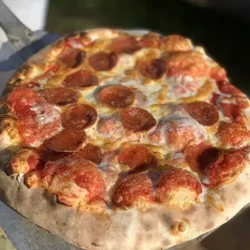 Pizza Cook (Age 16+)
It's your job to assemble and bake pizzas in our brick oven — and guests can watch from afar! We get lots of orders for these, so you will need to work efficiently to keep wait times reasonable.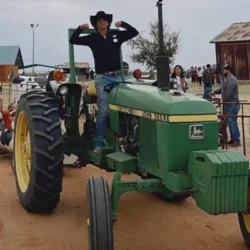 Tractor Drivers (Age 16+)
Tractors pull the cow train and wagons that deliver our visitors to the Pumpkin Patch. This job involves the safety of visitors, and we hold drivers to very high standards of safety. All drivers must have a valid driver's license before opening day!
To Apply
Must be 14 years or older by September 23, 2023 to become a Farm Hand. The application must be submitted no later than September 9, 2023. If you age 14-18, please also complete the Minor's Employment Release Form. All completed forms should be brought with you to the interview.
A background check is required for applicants 18 years or older.  A link will be emailed to you, please check your e-mail inbox and spam folders.